Iontophoresis is a clinically-proven technology
that transports ingredients into the skin to their necessary therapeutic levels. COSMION is a cosmetic iontophoresis rejuvenating system that has been uniquely developed to place simple micro-smart power in the hands of the user. Each treatment system offers up to six 60-minute applications of this powerful new antioxidant therapy.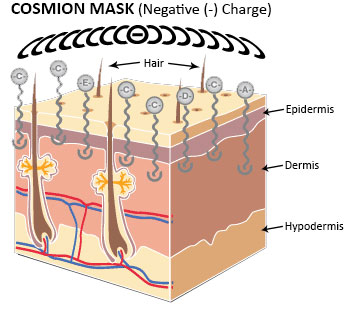 Cosmion uses micro current technology to create a negatively-charged polarity in our proprietary mask and eye patches. The mask and eye patches are powered by a small battery, creating a constant ionic charge, unlike printed or chemical batteries. The negatively-charged current generated in the Cosmion Mask works in concert with our specially-formulated Cosmion C Antioxidant Rejuvenating Serum to drive higher levels of the molecules to a more effective depth in the skin. Other forms of Vitamin C and topical antioxidants oxidize on the surface of the skin with minimal penetration. Typically, no greater than 5% of the topically-applied creams and lotions will penetrate the stratum corneum. The Cosmion mask protect these important molecules and effectively move them into the skin through active transport, in turn helping the Vitamin C Serum normalize pigment and encourage healthy collagen.
Cosmion Iontophoretic treatments transport anti-oxidant rejuvenating vitamins directly into the skin to a deeper level than is possible with topical products alone.